The university's highest duly elected student government, initiating student activities aimed at the holistic development of its student members. A group of elected and volunteer students who work with an adult advisor within the framework of a constitution or bylaws to provide a means for student expression and assistance in school affairs and activities, to provide opportunities for student leadership experience, and to encourage student-faculty-community relations.
President: Reymundo Postadan Donato
Advisers: Carlo Genster P. Camposagrado and Ricardo Jr. G. Salazar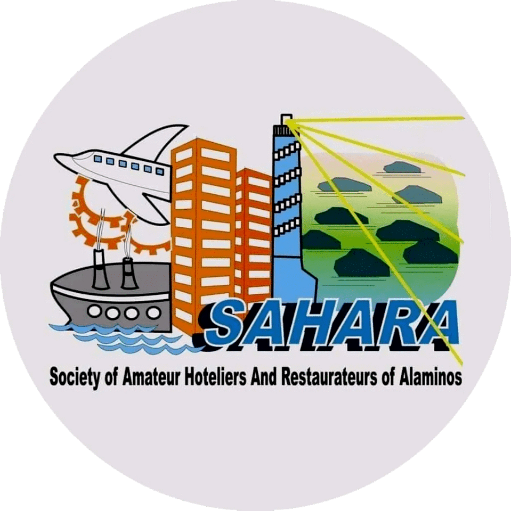 SOCIETY of AMATEUR HOTELIER and RESTAURATEUR of ALAMINOS
The official student organization of BSHM Students with the objective of helping improve their skills and knowledge in the field of Hospitality and Tourism.
President: Mark Harley V. Bristol
Adviser: Arnulfo A. Gutierrez 
SOCIETY OF YOUNG BUSINESS ADMINISTRATORS (SYBA)
The Society of Young Business Administrator is an organization in the management of student activities and shall act as the role and legitimate representative of the Business Administration student to the supreme student. The SYBA ensure equal protection of laws right and privilege to all bona fide members and also maintain and guarantee the students equal access to opportunities for academic growth.
Governor: Ajyajoy Barboso
Adviser : Charlaine P. Lopez
Domain of Information Technologists (DoIT)
An organization from the Bachelor of Information Technology. The development and betterment of student rights and needs is the top priority for the Domain of Information Technologists. Thus, its programs and activities put a premium on the promotion of student's total well-being.
Governor: Clarence D. Flores
Adviser: Carlo Genster Camposagrado
The official student-organization of the Bachelor of Secondary Education major in English at Pangasinan State University, Alaminos City Campus aims to: strive for the advancement of communication, literature, and linguistic study, particularly in the Philippine context; provide opportunities for academic, literary workshops, and contests, and other student activities with similar format and nature; conduct training programs on communication, language-related topics at pre-service level; communicate with other organization within and outside the Campus that are also engaged in such pursuit; and to encourage the participation of members of the Society at local, national, and international contests, seminars, workshops, and meetings on linguistics, language, literature, and/or mass communications.
President: Arlyn V. Operia
Advisers: Chenee Marie C. Cacho and Levi Jethro N. Balgua
GEG- General Educators' Guild
The General Educators` Guild is an organization that promote unity, equality, discipline and professionalism among elementary-teacher education students in Pangasinan State University Alaminos City Campus.
Governor: Richard N. Buenaflor
Adviser: Sixiane Kim B. Recepcion
The Official Student Organization of Bachelor of Secondary Education Major in Mathematics in Pangasinan State University, Alamnios City Campus.
President: Angeline G. Ramos
Adviser: Melody C. De Vera and Baby-Lyn O. Balgua