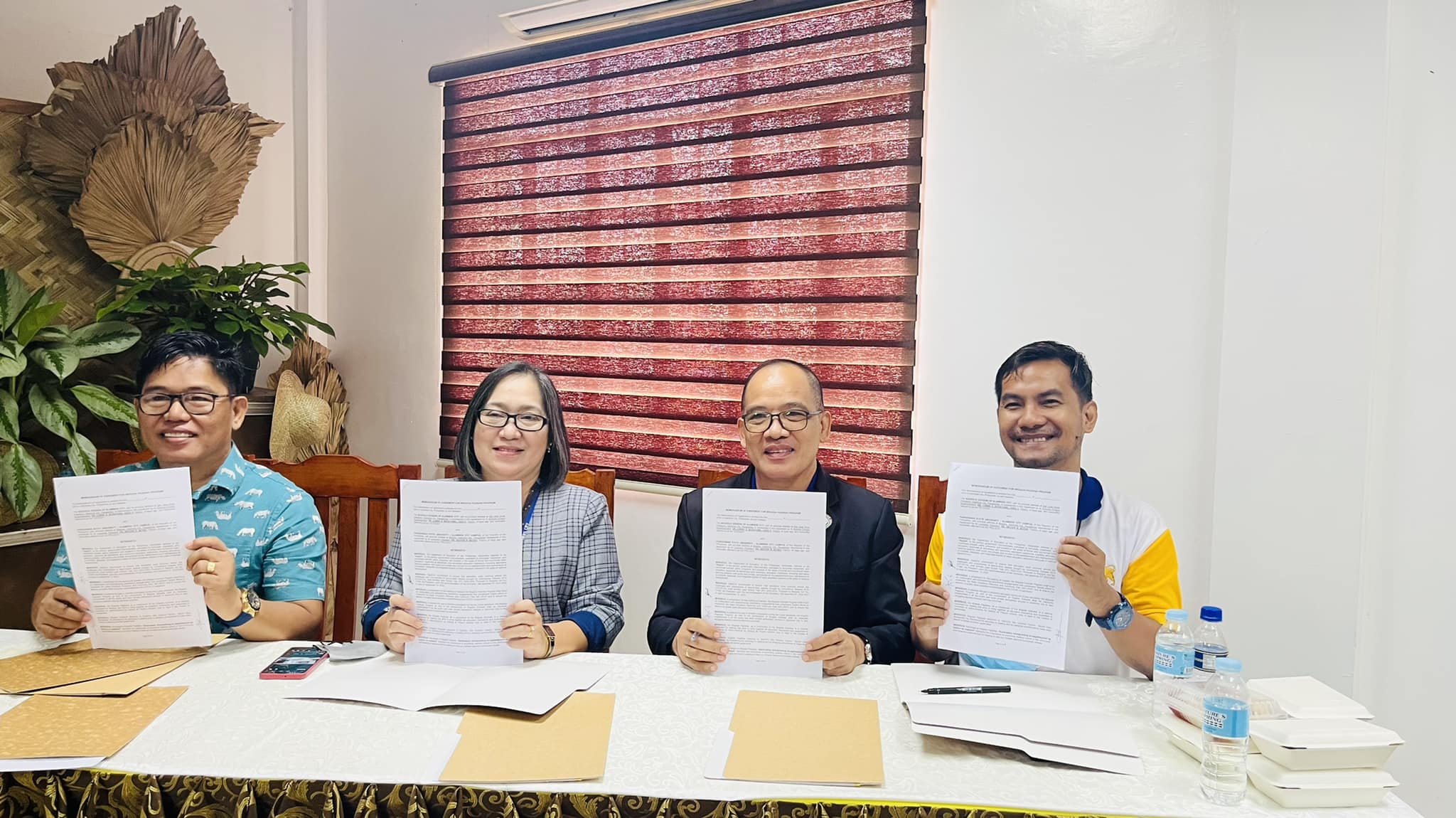 To amplify the importance of literacy, PSU-ACC accorded with the Department of Education-Alaminos City Division for empowering reading at the elementary and high school level through the EduSaklolo program of PSU-ACC and the Brigada Pagbasa of the DepEd-Alaminos City Division.
                 Present during the signing were Dr. Gilbert P. Moralista (University
Director of Gender and Development), Dr.  Christopher Cocal (University Director of Special Projects and Project Leader of EduSaklolo), Mrs. Rosario Cabrera (Assistant Schools Division Superintendent), Mr. Orlando Guerrero (Chief Education Supervisor), and Mr. Solomon Tablang (Head City Cooperative Office). In their presence are Dr. Ellen Grace Ugalde and Dr. Jocelyn De Vera, co-proponents of the EduSaklolo program. Other witnesses of the MOA signing were the volunteers of the project, the representatives of PSU-ACC, and teachers from the Division of Alaminos City.
The new curriculum is geared towards the holistic development of students with different skills they need for life-long learning. But before students can develop these skills, the most important factor is developing their reading ability and comprehension. Hence, the most significant problems of students are the ability to read and comprehend, thus affecting other skills and their level of learning.
                The College of Teacher Education initiated the "EduSaklolo" Program to help struggling students at the elementary and secondary levels, especially in reading, writing, and numeracy. To help the academically challenged students, the pre-service teachers utilize different learning modalities like face-to-face tutoring.          
                Furthermore, this program is an avenue for pre-service teachers to become well-rounded individuals. PSU believes this activity is necessary to prepare them for future functions and responsibilities effectively.
The Department of Education's Brigada Pagbasa is associated with this initiative to improve student literacy. As a subset of Brigada Eskwela, Brigada Pagbasa (BP) is an after-school reading program implemented in response to Hamon: Bawat Bata Bumabasa or the DepEd 3B Initiative released under DM 173, s. 2019. Implementing this partnership project may address literacy and numeracy learning gaps promptly, which all BE implementers are urged to do.
                Dr. Gilbert Moralista stressed the partnership's significance in bridging students' literacy gaps. Filling in the gaps in education is essential. Without intervention, it may cause problems in the classroom. Closing learning gaps may become more challenging as students advance through their educational experience. Mrs. Cabrera agrees, saying that this is a fight for the whole community, not just teachers and that this program should help students improve their reading abilities.
             Indeed, everyone gains when we invest in the future by helping increase children's literacy rates. This collaboration also reflects one of Pangasinan State University's guiding principles: providing outstanding service to the community.