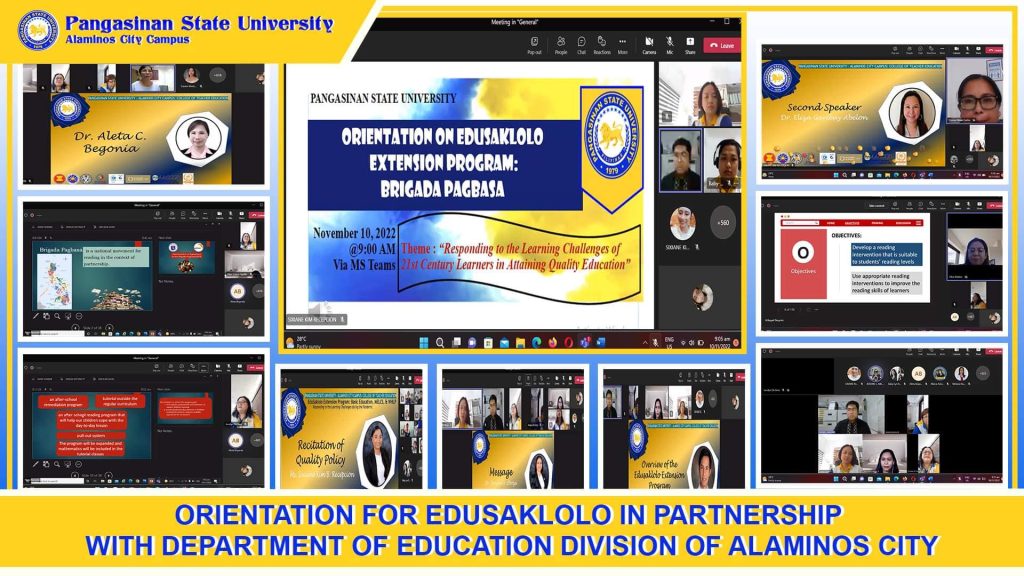 The College of Teacher Education, under the leadership of Dr. Ellen Grace Ugalde and Dr. Cristopher Cocal, the project leader of EduCare, spearheaded the orientation on the EduCare Extension Program as part of the Brigada Pagbasa of the Department of Education on November 10. Participants are the education students from 1st to 4th year, faculty members under the CTE, and two personnel from the DepEd Alaminos City Division, namely, Dr. Aleta C. Bergonia and Dr Eliza Abelon.
EduCare is an extension program of the College of Teacher Education in partnership with DepEd. The said program involves the pre-service teachers teaching/ tutoring two or more young learners experiencing difficulties in their studies. This program is not limited to teaching reading but also promoting numerical competency to young learners.
During the orientation through the MS Teams, Dr. Jenylyn Oboza and Dr Ellen Grace Ugalde emphasized the importance of literacy among learners. Teaching literacy to students means that they are given the ability to communicate clearly and effectively and form the foundation of modern life.
Dr Aleta Bergonia, the EPS of Kindergarten, discussed the orientation regarding the essence of Brigada Pagbasa in partnership with the EduCareProgram of PSU-ACC. She mentioned that reading is not only the problem that needs to be solved among learners but also the mathematical ability of the learners. In the orientation, she shared that parents also volunteered and underwent training regarding the Brigada Pagbasa. With this, the students of CTE will also be volunteering as part of the EduCare Moreover, Dr Bergonia also lectured about the different milestones of a learner, which is very important to consider, especially in understanding why they have this problem regarding literacy.
To fully grasp how the program will eventually help learners, Dr. Eliza Abelon, Master Teacher II of ACNHS, discussed the different techniques to improve literacy.
Furthermore, in the last part of the orientation, some students involved in the EduSaklolo shared their experiences, which led other students to recognize the essence of the extension program.
Indeed, Brigada Pagbasa, as well as the EduCare program, is a reflection of the proverb, "It takes a village to raise a child". Thus, we must provide different opportunities for learners to learn where no one is left behind.